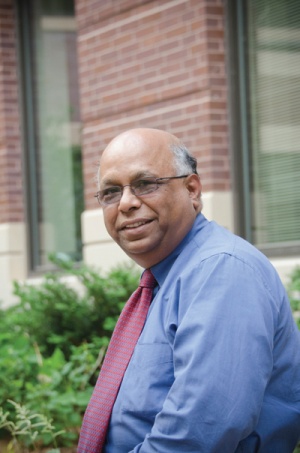 Dr. Balakuntalam S. Sridhar, Management Professor (Emeritus) at University of Wisconsin - Oshkosh taught Corporate Strategy, International Business, and Leadership for over 30 years.
Dr. Sridhar earned his BS (Physics), MA in Personnel Management (TISS); and MBA and Ph.D. in organizational theory and organizational behavior from The Ohio State University.
As a senior executive in multinational corporations Sridhar has practiced all facets of human resource management. Sridhar is a consultant and trainer in strategic planning, leadership, team building conflict resolution, creativity, organizational change and development and cross-cultural management. His clientele include a number of Fortune 500 multinationals in US and Europe, and local businesses engaged in manufacturing and service sectors, as also a number of nonprofit organizations and trade associations.
Sridhar has designed and directed the highly successful Viessmann-UWO Leadership Development Program for high potential managers. Over 100 managers from 13 countries around the globe graduated from this program.
Sridhar is the founding president of IndUS of Fox Valley. He also served as the President of Oshkosh Area United Way. He continues to serve on several nonprofit boards in the Fox Valley. A Rotarian since 2005, he served as President of Rotary Club of Appleton (2015-16), Assistant Governor of Area 5 (2017-18) before assuming the role of District Governor (2021-22), Rotary District 6220.
Sridhar and his wife Dr. Sandhya Sridhar, a retired management professor, live in Appleton Wisconsin.