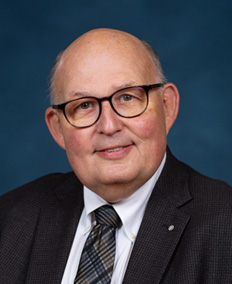 A native of Hazelhurst in Northern Wisconsin, Dave Anderson is a 1978 graduate of the University of Wisconsin-Superior with a Bachelor of Arts degree in Social Studies and German. He started his professional career as a German Teacher at Lakeland Union High School in Minocqua, his alma mater. While teaching, he was elected to the Oneida County Board of Supervisors and was a Supervisor, and later Chairman, for the Town of Hazelhurst. He left education to pursue a career in Government.
Anderson retired in 2018 as the Assistant Deputy Secretary at the Wisconsin Department of Workforce Development. His previous state
government experience includes roles as Director of the Governor's Northern Office in Hayward and Director of Appointments for former Governor Tommy G. Thompson. He also served as a Policy Advisor and was the Assistant Deputy Secretary at the Wisconsin Department of Financial Institutions. He was the Policy Director for Governor Scott McCallum before moving to the private sector as the Government Relations Director for the Ruder Ware Law Firm in Wausau.
During his career, Anderson also served as Deputy State Director for former U.S. Senator Robert W. Kasten, Jr., and was District Director for former Congressman Tom Petri of Fond du Lac (WI-6) and former Congressman Sean Duffy of Wausau (WI-7). Previously a member of the Board of Advisors for the Wisconsin Institute for Public Policy and Service (WIPPS), Anderson currently serves as a Senior Policy Fellow there.
An active Rotarian since 1991, Anderson is a Past President of the Wausau Early Birds Rotary Club. He was previously a member of the Rotary Club of Wausau and the Fond du Lac Rotary Club. A past Rotary District 6220 Membership Chairman and member of the District Board of Directors, Anderson became District Governor in 2022. He currently serves as a member and was the first Vice Chairman of the Rotary Western Great Lakes District Conference Planning Council and is a member of the Planning Council Midwest President Elect Training Seminar. He has also attended Rotary International Conventions in Bangkok, Lisbon, and Hamburg.
Anderson has served on the boards, and in leadership roles, for numerous community and nonprofit organizations over the years, including the UW-Superior Alumni Association, the UW-Superior Foundation, the Wisconsin Historical Society Board of Curators, the Circus World Museum Foundation, the Lakeland High School District Foundation, the Camp Five Museum Foundation, the Boys and Girls Club of the Wausau Area, KidsVoting Marathon County/Wisconsin, the Lakeland Care District, and the Wausau Area Taxpayers League.
Anderson and his wife, June, reside in Wausau. Their two daughters, Jennifer and Stephanie, were raised in Wausau and currently live with their husbands and children in Raleigh and Phoenix. In addition to his passion for Wisconsin history, Anderson loves to travel and is an avid movie fan. He counts model railroading and genealogical research among his many interests.